HomePC GamesJade Rousseau: The Fall of Sant' Antonio
Jade Rousseau: The Fall of Sant' Antonio
Platform:

PC Games

File size:

250 MB

Category:

Adventure, Hidden Object, Casual Games
Club Masque

GOLD


member price:

$14.99


Regular price:

$24.99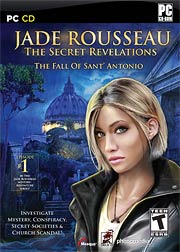 Description
Episode #1: The Fall of Sant' Antonio

Investigate an intriguing mystery full conspiracy, secret societies & even church scandal!

Episode #1 in the Jade Rousseau series of mystery-adventures, a series that's sure to provide a unique experience -- get all the unfolding drama, plot twists and excitement of a mystery-detective saga but in the form of an interactive adventure game!

Top-notch detective Jade Rousseau is street-smart, but a troubled soul. Seeking some solitude -- or perhaps simply to run away from her past -- she transfers to a remote police outpost in the northern Italian alps: Sant' Antonio. But what she stumbles onto in this quiet little town will be sure to change her life!
Help Jade, and her mysterious new partner David, investigate a series of murders and strange occurrences... which lead into a larger mystery involving: secret societies, terrorist activity and church scandal!
Follow the clues from the small Italian town of Sant' Antonio all the way to Rome, and even into the secret recesses of the Vatican itself! On your journey collect evidence, put the pieces together; decipher ancient codes and symbolism; and solve a variety of puzzle mini-games. But be careful with your choices and conclusions, as powerful mysteries will surely be protected at all costs by powerful people!

Mild Blood
Mild Language
Mild Violence