HomePC & Mac2,013 Card, Mahjongg & Solitaire Games
2,013 Card, Mahjongg & Solitaire Games
Platform:

PC & Mac

File size:

504 MB

Category:

Casual Games, Card & Casino
Club Masque

GOLD


member price:

$6.99


Regular price:

$12.99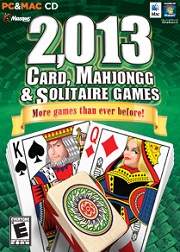 Description
The most complete collection of Card, Mahjongg and Solitaire games -- bigger and better than ever!
Completely updated to work on the latest Windows and Mac operating systems!

All the popular card, mahjongg and solitaire games are included in this massive collection, plus modern and unique variants you won't find anywhere else. Now with over 2,000 classic games, there's something for everyone -- kids, teens and adults. But if 2,000 games aren't enough, then you can create your own solitaire game or design your own mahjongg layout by using the "Game Builder" tool. The opportunities are endless…and so is the fun!
MASQUE CARD GAMES
All of your favorite card games are included in this collection:
• Spades
• Gin Rummy
• Hearts
• Rummy
• Whist
• Old Maid
• Euchre
• Crazy 8's
• Canasta
• Go Fish
• Cribbage
MASQUE MAHJONGG — NOW WITH MORE LAYOUTS!

This ultimate collection contains more than 1,000 different tile layouts,
including over 100 brand new layouts never seen before. Plus, there's
these variant tile games:
• Niagara
• Three Lines
• Recall
• Lines of Five
• Alignment
SOLITAIRE ANTICS ULTIMATE PLUS — PLUS MORE!
• Over 885 Solitaire games -- including over 125 unique solitaire games never seen before!
• Individual statistics for each player
• Unlimited undo and redo
• Check for "no more moves"
• Highlight movable cards
• 13 card decks and 50 backgrounds
• Create your own game from millions of possibilities using the "Game Builder"
• 80 hilarious animations