Puzzle Games
Platform:

PC & Mac

File size:

250 MB

Category:

Arcade & Puzzle, Casual Games
Club Masque

GOLD


member price:

$19.99


Regular price:

$24.99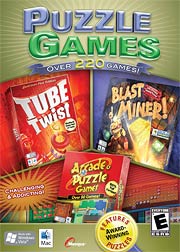 Description
Over 220 Challenging, Addicting Puzzle Games! 3 Complete Puzzle Packs!

TUBE TWIST

MacWorld Game Hall of Fame
Professor Jaymour has gone missing, but her experiments involving the newly discovered Macrotons are too important to be left incomplete. Now it's up to you to complete the professor's experiments and harness the power of the Macrotons.
Arrange various tube-shapes to construct a pathway that guides the Macrotons safely to their quantum energy containment units.
Complete each of the Professor's 100 machine experiments:
• Work with over 30 different tube shapes -- spirals, switches, anti gravity, twisty turns, and many more.
• Experiment in numerous different ways -- puzzles have multiple solutions.
• Harness enough energy and pass through portals to new challenges in other places in time!
BLAST MINER
There's gold in them thar hills…Problem is, the gold lies deep in the cavernous puzzle mines underneath them thar hills. Can you come up with the correct mix of explosive combinations to BLAST the gold pieces our of the obstacle-laced mines?
Mix constructive thinking with destructive explosions:
• Over 70 unique, physics-based puzzles
• Multiple solutions to each puzzle
• Puzzle editor, create your own levels

ARCADE & PUZZLE GAMES
Over 50 diverse games, ranging from challenging board games and puzzles, to some of the most fun and addicting casual games and arcade-style action available anywhere.
• Hundreds of levels
• Colorful characters
• Challenging, addicting puzzles
• Arcade-style action


Gambling
Comic Mischief