HomePC & MacArcade & Puzzle Games
Arcade & Puzzle Games
Platform:

PC & Mac

File size:

25 MB

Category:

Arcade & Puzzle, Casual Games
Club Masque

GOLD


member price:

$8.99


Regular price:

$9.99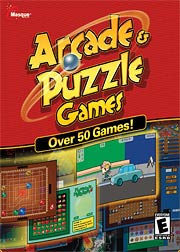 Description
Play more than 50 challenging and addictive arcade and puzzle games!
Hundreds of levels, colorful characters, mind bending puzzles and plenty of arcade action make this a must for all computer gamers.
Challenge your friends or track your own high score as you try to become a master at each game.

Gambling