Blast Miner
Platform:

PC & Mac

File size:

64 MB

Category:

Arcade & Puzzle, Casual Games, Strategy
Club Masque

GOLD


member price:

$8.99


Regular price:

$9.99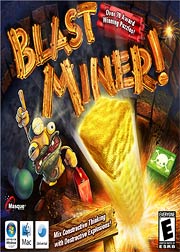 Description
Mix Constructive Thinking with Destructive Explosions!
There's gold in them thar hills! Problem is, the gold lies deep in the cavernous puzzle rooms underneath them thar hills. Can you maneuver the gold out of the obstacle-laced mines?
Strategically position a variety of different explosives, charges and other tools throughout each mine–try to come up with the correct mix and timing to blow gold pieces out through the mine shafts.
Rack your brain, try numerous different explosive combinations!
Each puzzle has multiple different solutions!
Challenge yourself, create your own puzzles with the puzzle editor!

Comic Mischief