Bistro Stars
Platform:

PC Games

File size:

17 MB

Category:

Match 3, Simulation / Management, Casual Games
Club Masque

GOLD


member price:

$5.99


Regular price:

$6.99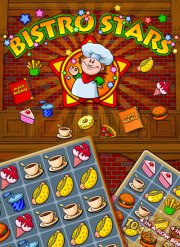 Description
Step up and start filling orders. Customers are waiting!
Bistro Stars combines gaming and snacking into one mouthwatering experience. Although you can't eat what's on the screen, you'll be smacking your lips as you match up food items in the delectable new action-puzzle offering. You'll have to curb your appetite, though, so you can feed a parade of hungry customers before time runs out.

Bistro Stars begins with a simple challenge: use your mouse to swap the location of two objects on the screen. When you line up three or more similar food items, such as a trio of juicy hamburgers, the order is whisked off to a customer and more objects drop into place from the top of the board. To win the level, you must clear at least one food item from every square.

In the higher levels, a chain and padlock surrounds certain squares; to release the locked objects, you must match them with at least two corresponding food items. Moreover, some objects come with a special bonus attached, such as more time, additional points or a prize. When you clear one of these food items off the screen, you earn the bonus. Prizes include a box of popcorn that can detonate padlocks and a vial of green liquid that chemically alters all of one kind of object on the board into another.

Action-puzzle fans eager for a new challenge will delight in the twists found in Bistro Stars. For example, above the order window where customers appear is an order board. If you clear a food item off the screen that isn't on the order board, it will be tossed into a refrigerator and the square won't be marked for victory. Also, when you please your customers, you earn the right to play one of several bonus memory games.

Bistro Stars comes with two hearty campaign modes: Classic and Speed. In Classic mode, you must claim all of the squares on the board before time runs out. In Speed mode, a padlock drops onto a random square from time to time. You must race to match objects as fast as you can and earn a set amount of money before the screen becomes gridlocked. Three Single Game modes are available, too, for when you want to snack on Bistro Stars rather than eat a full course meal.

Additional features in Bistro Stars include colorful graphics, delightful sounds, a Hall of Fame board, in-game hints and automatic game saves. So step up and start filling orders. Customers are waiting!