HomePC GamesSnowy: Puzzle Islands
Snowy: Puzzle Islands
Platform:

PC Games

File size:

12 MB

Category:

Arcade & Puzzle, Casual Games
Club Masque

GOLD


member price:

$5.99


Regular price:

$6.99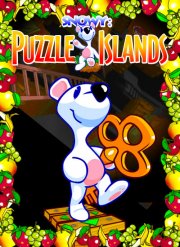 Description
Put on your thinking cap and then download Snowy's classic brain-teaser!
Snowy: Puzzle Islands is an adventure through a colorful world made of switches, moving platforms, teleporters and locked gates. Your goal on each of the game's 100 levels is to use these objects to help Snowy reach the exit. Along the way, you can collect fruit bonuses and other goodies.
Puzzle Islands features a 60-level campaign for serious thinkers as well as an easier 40-level campaign designed to teach kids simple logic skills. Whether you're a seasoned puzzle game fan or just want to perform simple tasks while enjoying vibrant graphics and pleasant music, Puzzle Islands will appeal to you.
In addition to the original game, registered users can download the free Simple Tasks add-on and purchase our Brain Shaker expansion pack, making for hours of brain-teasing fun for Snowy fans everywhere!