HomePC GamesReturn to Mysterious Island
Return to Mysterious Island
Platform:

PC Games

File size:

1.1 GB

Category:

Adventure, Point-and-Click
Club Masque

GOLD


member price:

$7.49


Regular price:

$7.49

List price:

$14.99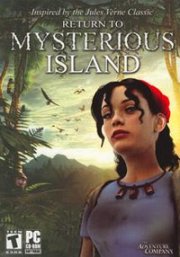 Description
Inspired by the Jules Verne classic!
A round-the-world sailing expedition... Ship wrecked on a deserted island... The ghost of Captain Nemo... The quest for survival... Caught in a tremendous storm!
Mina becomes stranded on the shores of a wild and apparently uninhabited island. As she explores her new surroundings, she uncovers artifacts, living spaces and technologies left behind by the people who came before her to this uncharted island. And soon she becomes aware of a figure in the shadows who, seemingly aware of her troubles, offers her assistance... but for a price.
Take on the role of Mina and help her in her quest for survival. Using puzzle-solving logic, discovery, creative inventory management, and elements of the supernatural, progress Mina through all sorts of challenges and help her to discover the reality of her mysterious helper all while trying to find a way off the island.
Adventure across splendid photorealistic locations, and explore the vast lush tropical landscapes of the island -- even come across many locations from the famous novel, including the granite house, the volcano and the Nautilus!