HomePC Games20.000 Leagues Under the Sea
20.000 Leagues Under the Sea
Platform:

PC Games

File size:

110 MB

Category:

Adventure, Hidden Object, Casual Games
Club Masque

GOLD


member price:

$8.99


Regular price:

$9.99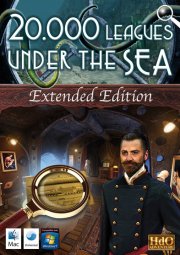 Description
Help the three prisoners of Captain Nemo escape the Nautilus!
Professor Pierre Aronnax, his assistant Conseil and the harpoonist Ned Land are captured by Captain Nemo, who travels the world's oceans on board the Nautilus submarine.
Although impressed by the beauty of the seabed, our three friends hope to escape and return to their lives on dry land. But Captain Nemo thinks otherwise... Can you help them escape?
A THRILLING ADVENTURE: Discover the furthest recesses of the Nautilus, take the helm and pass through the Isthmus of Suez, gaze upon hitherto unseen places under the waves! But beware, the apparently peaceful depths can hide terrible dangers! REALISTIC SCENERY: Admire the amazing scenery! The oceans and their secrets: fishes, seaweed, not to mention Atlantis! Nautilus and its riches: the library, wheelhouse, the living area and its works of art.

Inspired from the Jules Verne novel, Twenty thousand leagues under the sea.