HomePC GamesMy Kingdom for the Princess
My Kingdom for the Princess
Platform:

PC Games

File size:

42 MB

Category:

Simulation / Management, Casual Games
Club Masque

GOLD


member price:

$5.99


Regular price:

$6.99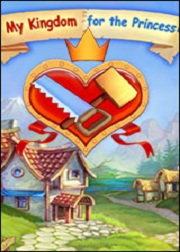 Description
Protect the princess and restore the kingdom in this great click management game

One day Princess Helen traveled across the lands to visit her uncle King Sigmund. The king was eating and waxing nostalgic, when all of a sudden...A tornado came and wreaked havoc on the lands. Animals, houses, and even people flew through the air. King Sigmund's castle somehow withstood the storm. But his troubles had only just begun. The tornado woke Firemouth the dragon, who, according to legend, could not sleep until he ate 37 people. The legend might be wrong, but the dragon had already eaten eight people, and didn't seem the least bit ready to go back to sleep.

And what's more, Princess Helen found out that during the tornado, her father, King Olgert, had been struck by lightning. Nobody knew whether he would live or die. She needed to return home immediately but all the roads were in ruins, the hamlets were destroyed, and a hungry dragon circled over the land.