HomePC GamesLaura Jones and the Gates of Good and Evil
Laura Jones and the Gates of Good and Evil
Platform:

PC Games

File size:

54 MB

Category:

Hidden Object, Casual Games
Club Masque

GOLD


member price:

$5.99


Regular price:

$6.99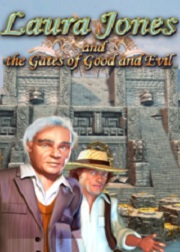 Description
Wonderful mix of adventure and I-spy with extraordinary mini-games.
Laura Jones is summoned to help famous archeologist Dr. William Adams discover the mysteries surrounding an ancient talisman. The talisman turns out to be one of the keys to legendary gates that protect the source of sacred powers that affect everyone around the world. It's a race against evil as Laura must get through the gates, balance the sacred powers and restore world harmony.
Solve adventure puzzles, search for clues, play lots of mini-games, and save the world from total destruction.