HomePC GamesAerie: Spirit of the Forest
Aerie: Spirit of the Forest
Platform:

PC Games

File size:

86 MB

Category:

Simulation / Management, Casual Games
Club Masque

GOLD


member price:

$5.99


Regular price:

$6.99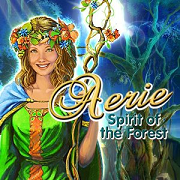 Description
Help Aerie heal nature's wounds!
After a natural disaster, Shangri-La lays in ashes. Aerie and the will-o-wisps are called upon to bring the land back to life. Guide them through forests, mountains, swamps and snowy peaks as they heal many different plants and trees. Awaken slumbering animals and cure them - they will give you valuable resources to heal nature's wounds.
As you progress from level to level, you'll find something new and interesting in each of them. You'll need to think strategically in order to manage scarce resources and accomplish all your goals before time runs out.