HomePC GamesLost Lagoon: The Trail of Destiny
Lost Lagoon: The Trail of Destiny
Platform:

PC Games

File size:

71 MB

Category:

Hidden Object, Casual Games
Club Masque

GOLD


member price:

$5.99


Regular price:

$6.99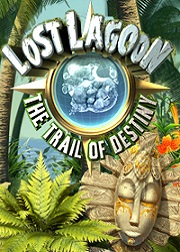 Description
An exciting hidden object adventure on a mysterious island full of ancient puzzles and enigmas.
You wake up on a deserted tropical beach without memory in the middle of wreckage from a hot-air balloon. Who are you and why are you there? While investigating the island you stumble upon a village – people have abandoned it many years ago. In your dreams in your first night there you flash back to the events of one week ago, to your hometown in Europe. It seems that you found an old map of this island that had been sent to you by your grandfather. But actually he disappeared many years ago…
So you embark on an adventure to solve all the questions and to finally get back home. On your journey you investigate an ancient temple, a sunken ship, and gloomy catacombs. Unveil the mystery of this island!