Pirateville
Platform:

PC Games

File size:

31 MB

Category:

Hidden Object, Casual Games
Club Masque

GOLD


member price:

$5.99


Regular price:

$6.99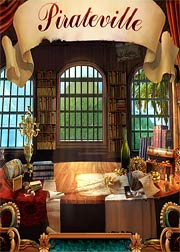 Description
An eye-popping hidden object game with an unprecedented number of levels!
Pirates are everywhere! They are on TV, in the movies, and in games. Pirate stories will never end because they are about love: the love for adventures, the love for freedom, for gold, and for life itself.
In Pirateville, Jack the Sharpshooter is a handsome pirate, who, in his crying need for money gets an ancient casket from his old friend. After being instructed not to open it, he loses his patience and tries to satisfy his curiosity. Upon revealing the casket's secret he is sucked into an unbelievable adventure where magic, love, gold, weapons and a cursed Ghost's fate are woven together.
Unravel the secret of an ancient casket, relieve the mysterious Ghost linked to the curse of Pirateville, and figure out the astonishing surprise ending!