Mysteryville 2
Platform:

PC Games

File size:

24 MB

Category:

Hidden Object, Casual Games
Club Masque

GOLD


member price:

$5.99


Regular price:

$6.99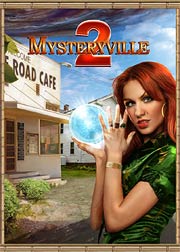 Description
Help Journalist Laura Winner solve the mystery of her missing friend.
Journalist Laura Winner just can't get enough of the odd little town of Mysteryville. Laura comes to Mysteryville this time having accepted an invitation from her old friend Bill Witowsky. However, when she arrives she discovers that Bill is missing and an art and jewelry auction is about to take place organized by the town's new priest. Could Bill's disappearance and this auction, which is totally out of character for a small town like Mysteryville, be somehow tied together? It's up to Laura to find out, with your help of course.
Interact with several of the town's inhabitants, including some new and old faces alike. Some of the characters in the first game have moved on to assume new roles and responsibilities in town. These characters, namely the creepy scientist and the unkempt small-town sheriff, are a big part of what helps to set Mysteryville 2 apart from other hidden object games.
The characters and the unique plot make Mysteryville 2 a fun ride while it lasts.