The Rugger Boys
Platform:

PC Games

File size:

51 MB

Category:

Arcade & Puzzle, Casual Games, Strategy
Club Masque

GOLD


member price:

$5.99


Regular price:

$6.99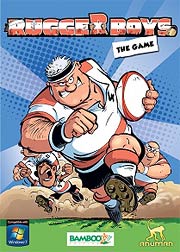 Description
The game you have to tackle head on!
The Rugger Boys is a strategy game set in the world of rugby. Score as many times as possible while holding off opposition attacks to be named man of the match! You need to get your timing just right to send your men, win and break all the records. Will you manage to get your team to the World Cup Final? With The Rugger Boys you'll experience some unforgettable post-match celebrations!
SEASON MODE - With your team, you have to climb to the top of the table in the most prestigious leagues. Take your team to the top: 52 different matchdays! Progressively difficult matches! Hand out yellow and red cards!
WORLD CUP MODE - In honor of the upcoming World Cup in New Zealand, a completely new mode lets you face the best international teams and compare your friends' scores: 7 lengthy international matches! Make your country proud and take your team to the Final! Take on the whole world on the Game Center!
CUSTOMIZE - Create your own avatar! Choose your team colors and motto! Make improvements to your stadium!