HomePC GamesGovernor of Poker 2
Governor of Poker 2
Platform:

PC Games

File size:

95 MB

Category:

Simulation / Management, Casual Games, Card & Casino
Club Masque

GOLD


member price:

$5.99


Regular price:

$6.99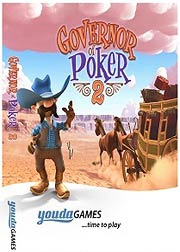 Description
Howdy! Governor of Poker goes back to the roots of this very exciting card game.
We know you must have heard about Texas hold'em poker by now? Who hasn't? Governor of Poker is a totally different kind of poker game. You can play against the old western pros. Play either as a male or a female character in this highly interactive and addicting poker game. Your only Goal: Get a hold of Texas! In the last couple of years lots of things have changed. Cities have grown, new people arrived... It's all good, but some things cannot be accepted just like that!
Governor of Poker 2 starts where the first game ended, but nothing is what it seems to be. A new Dallas government has entered and decided to put a ban on all poker games and consider the game to be illegal. What's even worse… you lost your title of Governor of Poker because of all this! It's up to you to convince the minister of the Texas gambling committee and show him poker is all about skills! Fight the ban on Poker!
Learn how to play the best poker with the poker tutorial. Play all new tournaments up to 120 opponents in 19 cities and 27 poker locations. You can choose to play all new poker tournaments, including a bounty hunter game, where you win cash prices when eliminating an opponent or play against a whole team of players! Organize your own tournaments, get loans at the bank. Travel by train, river casino boat or stage coach and play another game while travelling. Claim your transport and special locations like oilfields and mines. Buy the hats that suit you best or to get admitted to new locations. Judge your opponents based on new emotions, including nervous, on fire, steamy and tilt. Finally defeat the 9 best notorious players to reclaim your title!
Let's get on the train to Amarillo now and show them what you've got!