HomePC GamesThe Island: Castaway
The Island: Castaway
Platform:

PC Games

File size:

152 MB

Category:

Simulation / Management, Casual Games, Strategy
Club Masque

GOLD


member price:

$5.99


Regular price:

$6.99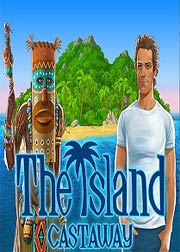 Description
Find your way off the island!
Survive a maritime disaster and find your way back home in The Island: Castaway, an adventurous tale of discovery and courage.
An ocean liner gets caught in a fierce storm and goes down, leaving a group of passengers to fend for themselves on a nearby tropical island. Before there is time to decide what to do next, strange things start happening. One of the survivors finds an ancient inscription left on the sand, and soon, the castaways realize that they are not the only ones on the island.
Go deep into this mysterious island and find out what secrets this forgotten place hides. Survive thrilling perils including bouts with dangerous wild animals and natural hazards as you search for food and shelter. Collect fruit, grow vegetables, learn to fish, catch snakes, and much more. To get back home, you'll have to find answers and overcome more than 200 diverse quests. Can you make it through?