Christmasville
Platform:

PC Games

File size:

31 MB

Category:

Hidden Object, Casual Games
Club Masque

GOLD


member price:

$5.99


Regular price:

$6.99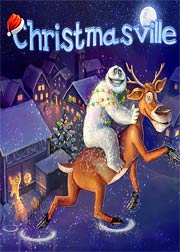 Description
Santa Claus is missing!
Once upon a time the Abominable Snowman came to your office for help. He informed you that Santa Claus was missing and that Christmas would not happen! And then he asked for you help to investigate the case. When you, the amazing private investigator Arthur Knight, said you didn't believe him, the Abominable Snowman put you to sleep with magic powder and took you to the North Pole. That's when you understood that he not only exists, but that he wasn't kidding. And now that you understand the truth, it's up to you to find Santa and save Christmas!
Head up to Christmasville -- the fabled home of Santa Claus at the North Pole -- to start your Investigation. There you will meet new friends like Abominable Snowman, Reindeer, Elf, the mysterious Ear and even Death. They will be helping you along the way to discover the truth behind Santa's disappearance in this eye-popping hidden object Christmas adventure for the entire family.