HomePC & MacAladdin and the Enchanted Lamp
Aladdin and the Enchanted Lamp
Platform:

PC & Mac

File size:

101 MB

Category:

Adventure, Hidden Object, Casual Games
Club Masque

GOLD


member price:

$8.99


Regular price:

$9.99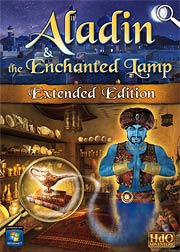 Description
The fabulous tale of Aladin completely revised!
Aladin, a young orphan, lives in the Orient. His only wealth lies in his small house and an old ring that formerly belonged to his father. As Aladin has to steal to survive, his deepest desire is to become a rich man and to be worthy of Princess Jasmine's attention. A strange dark sorcerer seems to be willing to help him. But in the country of genies, Aladin will have to act carefully.
A THRILLING ADVENTURE: Look for food, avoid the stallholders, find the marvelous cavern lost in the desert, enjoy the genie's magic powers and find out what the mysterious secret is kept in the Palace!