HomePC GamesThe Island: Castaway 2
The Island: Castaway 2
Platform:

PC Games

File size:

172 MB

Category:

Adventure, Casual Games, Strategy
Club Masque

GOLD


member price:

$5.99


Regular price:

$6.99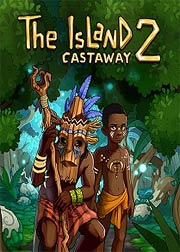 Description
Discover the story about little deeds that change the world!
Travel back in time and learn the prehistory of the Island on which you were once deserted. Explore the already familiar paths anew, solve tons of new quests and follow an absolutely gripping story filled with dozens of mysteries, tricky riddles and unexpected twists and turns.
The island, about which you only know the smallest of details, turns into a completely new place full of mysteries and secrets. Find out why the tribe left the old village, discover how the Sanctuary looked and learn how the ship appeared right in the Heart of the Island! In The Island: Castaway 2, you play as a native teenage islander, Yati. Become one of the tribesmen and learn all of the tribe's secrets. It's up to you to make important decisions, overcome obstacles and carry the day!
The Island: Castaway 2 features original characters, intriguing storyline to follow and lots of activities like hunting, fishing, farming, handicraft, trade, and even sorcery. The Island awaits!