HomePC GamesGreen Valley: Fun on the Farm
Green Valley: Fun on the Farm
Platform:

PC Games

File size:

42 MB

Category:

Arcade & Puzzle, Match 3, Casual Games
Club Masque

GOLD


member price:

$5.99


Regular price:

$6.99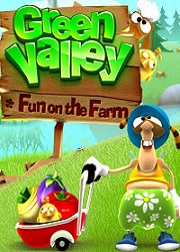 Description
Farm-matching fun of agricultural proportions!
Little Beetle Bug has inherited a farm! And guess what? The supposed cottage turns out to be more of a rundown shack. But no worries, you can turn things around with a little determination. Build up your farm by collecting fruit and resources, shearing sheep and keeping an eye on your harvesting crates! Earn revenues throughout all 80 fun-filled levels!
So roll up your sleeves and bring in the harvest playing the most agricultural puzzle game of all times!