HomePC GamesWorld's Best Board Games
World's Best Board Games
Platform:

PC Games

File size:

46 MB

Category:

Arcade & Puzzle, Casual Games
Club Masque

GOLD


member price:

$5.99


Regular price:

$6.99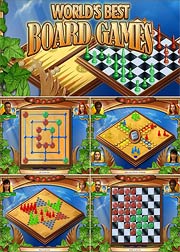 Description
Bring the best board games in the world to your computer!
This exclusive sampler brings the best board games in the world right to your computer! Play 17 board games that everybody knows -- in a quality never seen before, with stunning 3D graphics, exciting effects, fantastic sound, and artificial intelligence in three levels of difficulty.
You can play Single Player against the computer or with friends and family. It includes Backgammon, Chinese Checkers, Chess, Othello, Checkers/Draughts and many more games.