Island Tribe
Platform:

PC Games

File size:

68 MB

Category:

Simulation / Management, Casual Games
Club Masque

GOLD


member price:

$5.99


Regular price:

$6.99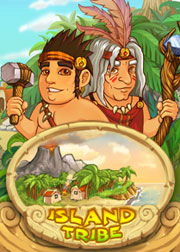 Description
Help the island people escape a volcano's destruction and reach safety!
On a small island in the middle of the ocean lives a small and forgotten tribe living a carefree and quiet life. But one day a volcano erupts, spewing ash and lava down toward their settlement. The villagers have no choice but to abandon their homes and run for their lives. They must head for the ocean, making their way through treacherous mountains, wild jungle and deep swamps!
Help the villages get to the ocean before the volcano's destruction reaches them. But be careful, as there are dangers all along the way. Along your journey construct shelters, collect resources and restore magic totems to make your trek safer!