Vogue Tales
Platform:

PC Games

File size:

40 MB

Category:

Simulation / Management, Casual Games
Club Masque

GOLD


member price:

$5.99


Regular price:

$6.99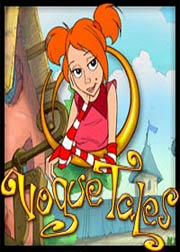 Description
Earn money, chase the bandit, and build your fashion in this colorful, stylish and fashionable time management game!
Little Wendy owns a small fashion house in the suburbs, where she was making dresses and costumes. Her life had been serene and happy until one day when she got a present from her grandma. "Family secrets" -- confused, Wendy put the box aside till the next morning. But during the night a sinister thief broke into the fashion house and made off with the box and Wendy's favorite dummy. He escaped somewhere in London. There's nothing left for poor little Wendy to do but earn enough money for a ticket and give chase to the bandit!
Enjoy the freedom of Wendy's wonderful journey as you tour around Europe. Help her improve her skills as a fashion stylist, all while meeting new people and discovering the world's best clothing styles. But who would steal her grandma's present, what was it and what did the dummy have to do with it -- you will find all these answers playing this colorful, stylish, and funny Vogue Tales!