Island Tribe 2
Platform:

PC Games

File size:

111 MB

Category:

Simulation / Management, Casual Games, Strategy
Club Masque

GOLD


member price:

$5.99


Regular price:

$6.99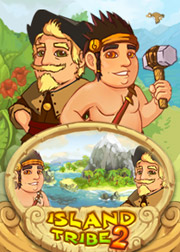 Description
Help the island people settle in a new home and find the magical Altar of Wishes!
The island villagers have successfully escaped the dangers of the volcano that devastated their home, but now they are adrift and homeless on an open ocean. Having sailed aimlessly for many days, they finally come across human life -- a lonely explorer who has become lost at sea. The island villagers rescue the man, and in return the explorer shares a secret map that reveals three mystical islands, which are said to contain hidden treasures and magical artifacts beyond belief.
Lead the island villagers to these mysterious islands and help them as they look for the ancient and magical Altar of Wishes. Be prepared, though, as the route is not easy, and it's fraught with many dangers. Use your wits to overcome a whole host of new obstacles -- collect resources and construct or repair shelters to advance further!