HomePC GamesSecrets of the Vatican
Secrets of the Vatican
Platform:

PC Games

File size:

122 MB

Category:

Hidden Object, Casual Games
Club Masque

GOLD


member price:

$5.99


Regular price:

$6.99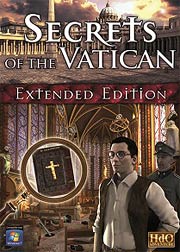 Description
Travel around the world with Father Bagatti to get back the fragments of the Holy Lance of Longin. The end of the World War II depends on your success!
Among all the relics spread across the world, the Holy Lance of Longin is considered to be the most wanted. This weapon, which is said to have speared the side of Jesus during his crucifixion, would bring victory in battle to any man who possesses it. Father Bellarmo Bagatti, art historian of the Church of Roma, is in charge of a mission of the highest importance: get back the Holy Lance before the Germans seize it. The end of World War II is depending on your success. Open your eyes and help Father Bellarmo Bagatti in his quest!
Travel to 4 different counties and explore beautiful locations set in Paris, Istanbul, Rome and Berlin. Decode secrets and gain access to hidden to some of the most hidden places in the world on your journey!