Dreamland
Platform:

PC Games

File size:

223 MB

Category:

Hidden Object, Casual Games
Club Masque

GOLD


member price:

$5.99


Regular price:

$6.99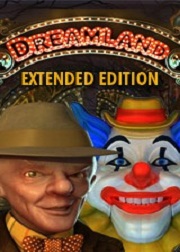 Description
Save the world from an evil dwarf!
Welcome to Dreamland... an old abandoned amusement park! It's full of dangerous traps and wild entertainment. But it also contains a terrible secret... there is an evil dwarf who lives here, and he brightens up his miserable days by collecting the souls of those who dare enter the neglected park.
Only you can rid the world from this dwarf's evil presence; but it won't be easy. His traps and tests are waiting for you. Make your way around the park looking for useful things in all the old rides. Open a number of locks, outsmart swindlers in the shell game, fire the cannon on the Pirate Ship and blast off to the moon. There's no turning back once you enter. Get to the safe where the evil dwarf keeps his contracts for all the lost souls... contracts sealed in blood. But beware what you find once you open the safe -- one of the contracts has your younger brother's name on it; and another is reserved for you personally!
Amazing graphics, animations, and an excellent soundtrack all make Dreamland a unique game with a great mix of hidden objects, puzzles and adventure. Step right up to the big top and don't pass it by!