All My Gods
Platform:

PC Games

File size:

102 MB

Category:

Simulation / Management, Casual Games, Strategy
Club Masque

GOLD


member price:

$5.99


Regular price:

$6.99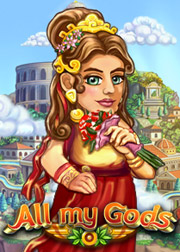 Description
Lead Saturn's son to the top of the Pantheon and help him become a mighty god!
Even gods grow old... and so does Saturn, one of the oldest gods of Rome. One day he decides to retire, and he wants his son to take his place. The council of the gods respectfully accepts his will and welcomes an heir to take Saturn's place... but on one condition. He has to prove that he is trustworthy of the divine powers he is about to receive. The future seems bright and glorious for the son of Saturn! But not all the great gods are willing to welcome newcomers at the Capitoline Hill. Mars -- the god of war -- loses his temper every time he hears someone speak about the newbie. On top of that, our hero falls in love with Mars' beloved Venus, so now Mars swears to never allow the youngling become a god.
Lead Saturn's son to the top of the Pantheon! Help him become a mighty god! Use divine powers to change the life of Romans. Make your small village prosper and grow it into an Empire! Outsmart the evil gods! Make friends with the nice ones! And win the heart of the most beautiful of them all!