HomePC GamesSchoolmates 2: The Mystery of the Magic Bracelet
Schoolmates 2: The Mystery of the Magic Bracelet
Platform:

PC Games

File size:

175 MB

Category:

Adventure, Hidden Object, Casual Games
Club Masque

GOLD


member price:

$5.99


Regular price:

$6.99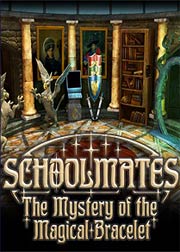 Description
Continue the adventures of Blondie, Flex, and Eva; and help them use their magic to stop an evil mage!
Long ago, a dark order of mages decided to wreak havoc upon the land but was kept at bay by another group known as the Selena order. Within this group of light, it's power stemmed from three young girls who possessed extraordinary skills. Blondie, Flex, and Eva maintained peace and balance throughout the land... that is, until the day Blondie disappeared. Now Flex and Eva must search for their missing friend or else the dark order will have its chance to regain its hold.
Join forces with Flex and Eva; travel through their surreal world to find Blondie and stop the dark wizards. Learn magic spells, meet unreal characters, find valuable clues, and solve whimsical puzzles. Will the girls be able to deceive evil trolls, befriend the fire spirit, find Blondie, and defeat the dark order once and for all?