HomePC GamesEgypt: The Prophecy - Part 3
Egypt: The Prophecy - Part 3
Platform:

PC Games

File size:

211 MB

Category:

Adventure, Casual Games
Club Masque

GOLD


member price:

$5.99


Regular price:

$6.99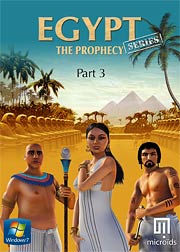 Description
Part 3: The Final Battle
Just as she is close to healing Paser and solving the whole mystery, Maia's adventure takes a new twist. She now finds herself hurled into a dark paranormal world... explore the world of the dead and confront head-on the myths of Isis and Osiris.
One thing is now certain: a divine power is directly behind the problems on the building site. It seems inevitable that Maia will have to confront this supreme being to save the Great Obelisk, the Pharaoh, and even Egypt itself. Help her succeed in this final battle!
This is the last part of a three-part adventure series.