HomePC GamesRaxx: The Painted Dog
Raxx: The Painted Dog
Platform:

PC Games

File size:

96 MB

Category:

Arcade & Puzzle, Casual Games
Club Masque

GOLD


member price:

$5.99


Regular price:

$6.99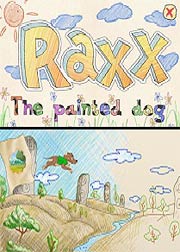 Description
Help Raxx return home by drawing his way out!
The dog Raxx has found his way into a beautiful drawing world. Problem is, now he's stuck! He knows how to get home, but in order to do so he must cover a great distance. On his way, Raxx must maintain his strength by collecting a variety of delicious sugar bones.
Raxx will surely need your help on his journey home. Use these magical instruments to draw his way: three types of crayons that will allow you to alter the landscape and create useful paths, as well as an eraser to correct obstructions that have already been drawn.
Show your ingenuity and help Raxx return to his own world!


Important: for best playability, change settings to Windowed Mode -- de-select 'Full Screen' option in the Settings menu.