The Inca's Legacy
Platform:

PC Games

File size:

114 MB

Category:

Adventure, Hidden Object, Casual Games
Club Masque

GOLD


member price:

$5.99


Regular price:

$6.99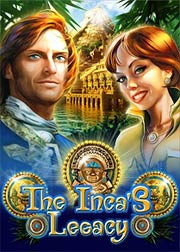 Description
As a young and adventurous archeologist, help Mary Ocean decipher the mysterious archeological finds of her father!
Mary's father had studied the Incan civilization for years with the ultimate hope to one day find directions to Paititi, a mythical Incan city. Legend has it that Paititi had been built entirely of pure gold, and the most precious artifacts of the old kingdom are still there, hidden away!
Using Mary's father's notes, continue the search for Paititi! Along your way, look out for traces of a lost expedition that once also went searching for the countless treasures of the mythical city. Take heed of the dangers that this lost expedition unveils, and be careful!
Solve all the puzzles, avoid dangerous tricks & traps and uncover the mystery of the legendary city of the Incan civilization!