HomePC GamesAtlantis: Mysteries of Ancient Inventors
Atlantis: Mysteries of Ancient Inventors
Platform:

PC Games

File size:

93 MB

Category:

Hidden Object, Casual Games
Club Masque

GOLD


member price:

$5.99


Regular price:

$6.99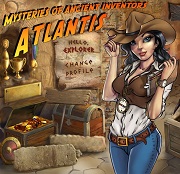 Description
Help Anna find the treasures of Atlantis.
Ancient civilizations and their ruins hold many secrets and mysteries.
A young and ambitious archeologist, Anna, suddenly discovers a fragment of a lost map which seems to be leading to treasures hidden away in -- what was thought to be -- a mostly mystical land: Atlantis!
Guide Anna as she undertakes the adventure to complete the map and find the treasures. Help her to conquer all the obstacles in her way during the search; visit ancient cities and deserted caves; descend down to the sea bottom and trek through ice deserts. Decipher mysteries concealed by priests and solve a wide variety of puzzles... all for the purpose of making the discovery of a lifetime!