Roads of Rome 2
Platform:

PC Games

File size:

101 MB

Category:

Simulation / Management, Casual Games
Club Masque

GOLD


member price:

$5.99


Regular price:

$6.99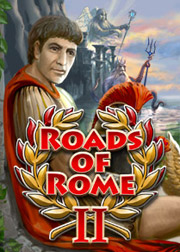 Description
Journey to the land of the gods!
Caesar, the governor of Rome, has been poisoned, and there's no potion strong enough in the world of mortals that can cure him of his terrible disease. In despair Caesar's daughter Julia calls you, the honorable general Victorinus, to set out on the long journey to the gods to find a remedy.
On your way you'll have to travel through many dangerous barbarian lands, so be careful. Clear the way, build roads, and solve tons of new quests and challenges. And finally offer gifts on the altar of the gods to win their favor, bring glory to Rome and save Caesar's life!