HomePC GamesAmerican Lowriders
American Lowriders
Platform:

PC Games

File size:

178 MB

Category:

Simulation / Management, Casual Games, Action
Club Masque

GOLD


member price:

$8.99


Regular price:

$9.99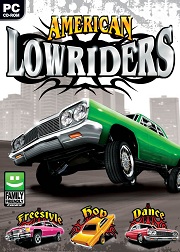 Description
Enter the world of night street racing and underground lowrider competitions.
Buy your ride -- search the used car lots and choose from 12 classic American cars -- and keep it in good condition so you can compete with other pretenders. Earn money and respect as you rise in the ranks; go on to race against better drivers, tougher courses and advance in the underground community to ultimately become the next racing king of the neighborhood.
Heaven for car tuners
Earn cash in night races, and spend that money to tune up your car in your garage to achieve the best performance. Change engine parts, switch gearboxes and other stuff to make your wheels spin as fast as possible. If you're a good tuner, you'll soon be able to pimp your ride with custom settings -- change tires and rims, lower the suspension and install hydraulics suspension system. Buy better cars and parts to advance your underground racing career.
Different game modes
The game features 2 main modes: street racing and lowrider competitions. Meet other street racers and challenge them for duels at different racing locations around the city. Make bets to earn money or even take your opponent's car! Once you've installed hydraulics suspension system you'll be able to enter lowrider competitions and compete in 3 different competitions: jump, dance and freestyle.
Be sure to have the latest DirectX already installed.