HomePC GamesParadise Beach 2: Around the World
Paradise Beach 2: Around the World
Platform:

PC Games

File size:

125 MB

Category:

Simulation / Management, Casual Games
Club Masque

GOLD


member price:

$5.99


Regular price:

$6.99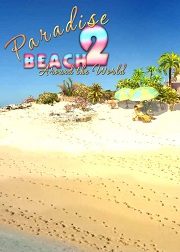 Description
Work your way to the top as you manage the construction of the world's leading beach resorts!
Beautiful, untouched beaches in the most interesting corners of the globe await you -- legendary islands in the Mediterranean Sea, secret oases in China, coral reefs off the Australian coast, and lost islands in the Pacific Ocean. You'll encounter strange animals and amazing people. You'll witness unbelievable love stories, complete daring business projects, and save endangered species on eight wonderful and diverse islands. There are dozens of plants specific to each climate, and you have total freedom to build and decorate these beaches as you wish. You're employees are here to help keep things clean, keep your swimmers safe, and protect your guests. So what are you waiting for? It's time to have some fun and get to work on your beaches.
Bring empty beaches to life! Design beautiful gardens, paths, beaches, and bars to attract happy vacationers from all around the world. Overcome the trials and tribulations that come with managing a business and succeed to become a first class beach resort tycoon!