HomePC GamesGolden Trails 2: The Lost Legacy
Golden Trails 2: The Lost Legacy
Platform:

PC Games

File size:

237 MB

Category:

Adventure, Hidden Object, Casual Games
Club Masque

GOLD


member price:

$5.99


Regular price:

$6.99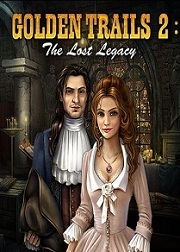 Description
Uncover the lost legacy!
Travel back to the 18th century and uncover the secrets of bygone days with Golden Trails 2: The Lost Legacy, a fantastic hidden object adventure game and the second title in the Golden Trails series!
Play the role of Henry whose Grandfather is accused of piracy and condemned to death. Travel four continents, find the ship's logbook and its missing pages to find out the truth about your grandfather's past and save his life! But there is much more behind this story… a long forgotten legend, a lost legacy and a love story all await!
Scour fantastic locations to find over 2000 hidden objects and solve original puzzles as you journey through the exotic Maghreb, rainy England, Spain and the legendary islands of the Caribbean Sea. Play shooting gallery & puzzle mini-games, collect lost artifacts and earn over 45 trophies.
Enjoy hours of excitement with 3 game modes (including a Secret Mission); explore an intriguing storyline and meet unique characters, the brightest prototypes of the epoch, in Golden Trails 2: The Lost Legacy!