HomePC GamesMechanicus: Star Confrontation
Mechanicus: Star Confrontation
Platform:

PC Games

File size:

62 MB

Category:

Arcade & Puzzle, Casual Games
Club Masque

GOLD


member price:

$5.99


Regular price:

$6.99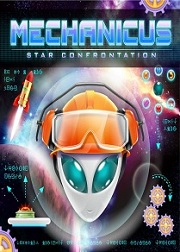 Description
A new mind-bending puzzle game based on the laws of earthly and extraterrestrial physics!
The planet is in danger! It's up to you to save the day, by putting your ingenuity and resourcefulness to the test as you solve a variety of tasks and mini-games. Assemble tools to deliver much-needed materials, neutralize mine fields, and launch items into black holes. Work with conventional devices, and figure out new alien technology -- lasers, teleportation units, antigravity devices -- to get the job done. Discover a variety of solutions to each puzzle by relying on traditional earthly physics while taking advantage of new and astonishing extraterrestrial technologies.
The keys to success - your ingenuity and resourcefulness!