HomePC GamesThe Adventures of Aladdin and the Magic Skull
The Adventures of Aladdin and the Magic Skull
Platform:

PC Games

File size:

613 MB

Category:

Casual Games, Adventure
Club Masque

GOLD


member price:

$8.99


Regular price:

$9.99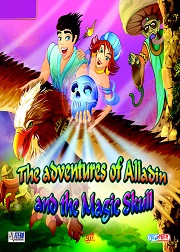 Description
Escape on a magic carpet ride to a remarkable destination in this point and click adventure, an amazing & fantastical Arabian voyage!
A wizard is in town and Aladdin is anxious to see his magic show. When he sneaks into the magician's tent for a quick peek however, Aladdin finds an enchanted skull held captive. The skull promises Aladdin a voyage to the majestic floating city if he helps it escape, a task that the mischievous young man is more than willing to undertake.
Join Aladdin on this whimsical journey to see the legendary floating city. Travel through unknown lands and meet kind characters, fierce creatures, and evil foes. Play exciting mini-games, decipher perplexing puzzles, and live out an adventure that is more thrilling than ever imagined. Will Aladdin make it to the floating city, or will the wizard catch up and turn him into a frog?