HomePC GamesFrankenstein: The Dismembered Bride
Frankenstein: The Dismembered Bride
Platform:

PC Games

File size:

81 MB

Category:

Hidden Object, Casual Games
Club Masque

GOLD


member price:

$5.99


Regular price:

$6.99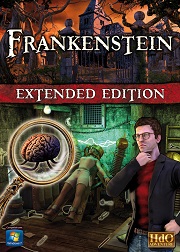 Description
Help Brad find all the parts of his fiancée's dismembered body, and find the pieces of a monstrous machine that will put her body back together in Frankenstein manor!
Brad is looking for his wife, Janet, who disappeared a few months ago. After a long search, his quest leads him to Bavaria, near a manor house... but then his car breaks down. Brad discovers that the house is owned by a weird scientist: Lord Albrecht von Frankenstein. Janet has been his last "experiment". She's still alive, but her body has been dismembered, and all the parts have been scattered around the house. Brad has to find them, along with all the missing pieces of the machine if he wants to put Janet's body back together.
A thrilling adventure with a teasing tone of mystery, adventure, horror and humor!