HomePC GamesAgricultural Simulator: Historical Farming
Agricultural Simulator: Historical Farming
Platform:

PC Games

File size:

800 MB

Category:

Simulation / Management, Casual Games
Club Masque

GOLD


member price:

$16.99


Regular price:

$19.99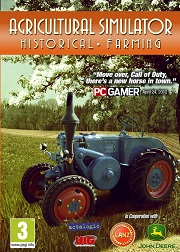 Description
Travel back to the 1950s, 60s and 70s and experience the charm yet rugged hard work of the old-time farming life!
Choose between 2 beautifully recreated scenarios -- the idyllic highlands, valleys and woods of the Alps region, or the fascinating rolling plains and measured climate of the Tuscany region. Then get to work by taking on the daily tasks of the traditional agriculturist: produce food and sustainable resources, tend to the animals, till the fields and deliver your materials. Use the old-time tractors and machines to help get the job done -- work with well-known brands from John Deere and Lanz Bulldog, masterfully redesigned, very detailed and true to the original.
The stunning sceneries and true-to-life realistic gameplay provide hours upon hours of challenge and enjoyment.
"Move over Call of Duty, there's a new horse in town."
--PC Gamer magazine