HomePC GamesRed Crow Mysteries: Legion
Red Crow Mysteries: Legion
Platform:

PC Games

File size:

248 MB

Category:

Adventure, Hidden Object, Casual Games
Club Masque

GOLD


member price:

$5.99


Regular price:

$6.99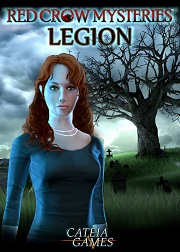 Description
'My name is Legion; for we are many.'

It's up to you and your special gifts to stand up to a terrible evil and save humanity!

Your extraordinary gift is also your biggest curse. It is a burden that you carry. The ability to see things others cannot is an unbelievable challenge and responsibility that you must embrace -- especially now when 'he who has many names' has awakened and is hungry for victory and power. Can you pass the test and defend mankind when judgment day arrives?

Find out when you step into the role of a young female who comes from a long family line of confronting and defeating this harbinger of doom. Investigate dark locations to look for clues of impending dangers and locate special items to help solve deceitful puzzles. When you are ready, you will confront this ancient evil. Be prepared, resist temptation and remember that only fear is your worst enemy.