HomePC GamesDracula 4: The Shadow of the Dragon
Dracula 4: The Shadow of the Dragon
Platform:

PC Games

File size:

932 MB

Category:

Adventure, Casual Games
Club Masque

GOLD


member price:

$8.99


Regular price:

$9.99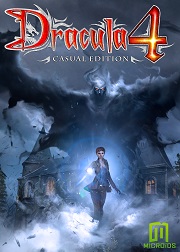 Description
Travel all throughout Europe in search for a haunting set of paintings that will unlock a dark and sinister mystery and bring you face to face with "The Shadow of the Dragon"!

5 Stars: "an adventure for true adventure fans, complete with a well-told story and fantastic puzzles"
--Gamezebo

Ellen Cross, an expert art restorer for the Metropolitan Museum of Art, is sent to Hungary to authenticate an important painting that has resurfaced after having been lost during a mysterious shipwreck, months ago. With this bit of good luck, the museum furthermore asks Ellen to try and track down the rest of the collection.

Little does Ellen know that through this haunting painting -- a portrait of the terrible prince of Wallachia, Vlad Tepes -- she's about to discover a dark and sinister mystery that has been tormenting Europe for generations.

Help Ellen as she travels all across Europe in pursuit of the lost collection. Find and examine clues, solve puzzles, use or manipulate a variety of objects to your advantage, battle a mysterious illness, and come face to face with the "Shadow of the Dragon" -- a secret order which has been dreaming for centuries of freeing themselves from the domination of the first vampire: Dracula! Free Europe from the shackles of its terrible curse!