HomePC GamesJennifer Wolf and the Mayan Relics
Jennifer Wolf and the Mayan Relics
Platform:

PC Games

File size:

178 MB

Category:

Hidden Object, Casual Games
Club Masque

GOLD


member price:

$5.99


Regular price:

$6.99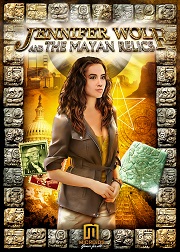 Description
Delve into the deep secrets of the ancient Mayan civilization!

Jennifer Wolf leaves San Francisco to join her father on one of his last archaeological dig, which he is leading in Mexico. When she arrives on site, she can't find any trace of him, and it appears all his belongings have been ransacked. Prior to his disappearance, Jennifer remembers that he had worriedly hid a certain manuscript, which he said held significant value -- he said it's a book, dating from the 16th century, that tells of the last sacred Mayan calendar, and it had been broken up into five separate fragments and entrusted to selected guardians to ensure its protection. Are sinister men looking to capture all the pieces of this important artifact?

Take on the role of Jennifer Wolf. It's up to you to find your father and collect the precious fragments of Mayan relics before they fall into the wrong hands. With the help of Raphael, your father's assistant, search through the ancient civilization's secret and sacred places in order to solve the mystery. Examine archaeological sites, cross the Mexican jungle, take an in-depth look at Monument Valley, pursue your investigation as far as the Washington archives, seek out advice from a mystic in Navajo, and uncover even more profound secrets in a wide range of locations steeped in mystery!

According to ancient Mayan beliefs, all the fragments of the calendar must be assembled together before 21st December 2012.