Finders
Platform:

PC Games

File size:

99 MB

Category:

Simulation / Management, Casual Games
Club Masque

GOLD


member price:

$5.99


Regular price:

$6.99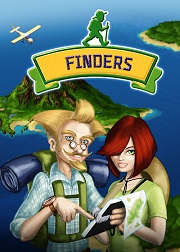 Description
Carve a path through an unforgiving wilderness to rescue a hero trapped by a villain!

For years, the valiant Altair safeguarded the world from disaster and ensured a peaceful, prosperous existence for mankind. But a madman bent on doing evil figured out a way to confine him. In the wake of Altair's disappearance, disaster struck Earth, with one calamity after another shaking the planet to its core. Now you must lead a band of brave workers on an epic adventure to find the hero, using the cryptic clues on an ancient artifact to guide the way.

To endure the harsh conditions, you will learn to take what you need from the land. Gathering food and water, housing your workers, and mining gold from tunnels will make each new level a breathtaking challenge unlike any you have experienced. As you balance time and resources, you'll also invent clever machines to accomplish special tasks, make friends with a Yeti, and prepare for the impending showdown against your enemy. Developed to provide casual gamers with a thrilling and accessible resource management adventure, Finders will provide hours of unforgettable fun!