HomePC GamesMonument Builders: Titanic
Monument Builders: Titanic
Platform:

PC Games

File size:

79 MB

Category:

Simulation / Management, Casual Games
Club Masque

GOLD


member price:

$5.99


Regular price:

$6.99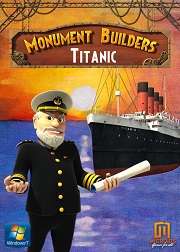 Description
Build the world's most famous ocean liner!

This time and resource management game is set in a beautiful early 20th century Irish setting. It will show you a playful and clear vision of the Irish landscape and thr prodigal construction site of the famous Titanic. Rediscover old Ireland and take part in the enormous construction of the famous Titanic.

Throughout 50 levels, you'll have to employ a varienty of workers and manage them all. You have many carts and delivery vehicles to help you reach your targets. But beware!

To reach your targets, you'll have to get rid of bandits who have set themselves up on the roads, protect your site against robbers, and deal with local and foreign tradesmen.