HomePC GamesRed Johnson's Chronicles
Red Johnson's Chronicles
Platform:

PC Games

File size:

1.1 GB

Category:

Adventure, Point-and-Click, Action
Club Masque

GOLD


member price:

$11.99


Regular price:

$14.99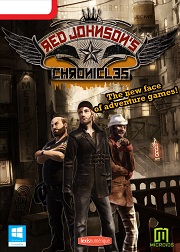 Description
Take on the role of Red Johnson, a private detective who is trying to find his place in the corrupted city of Metropolis.

One day the police come to you in desperate need of your help to solve a murder with no corpse. It's up to you to look for clues, interrogate witnesses -- know the right way to speak to them in order to sort out the truth from lies -- and put all the evidence together in order to find the perpetrator. You'll also have to use your logic to solve mysterious puzzles that keep landing in your way; and occasionally, you'll have to use your fists. Be careful, though, as there can be pitfalls and traps around every corner, as corruption and organized crime plague the city. Try to stay alive... at least long enough to finish this investigation!

Discover Metropolis, its unique atmosphere and get to know the rules quickly if you want to survive!

Blood
Sexual Themes
Strong Language
Violence