HomePC GamesThe Bluecoats: North vs South
The Bluecoats: North vs South
Platform:

PC Games

File size:

64 MB

Category:

Simulation / Management, Strategy, Action
Club Masque

GOLD


member price:

$8.99


Regular price:

$9.99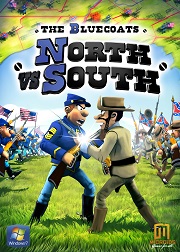 Description
Head up the Yankees or Confederates, and destroy your enemy in this colorful strategy game!

Play the head of one of the armies of the Civil War. Your aim is to conquer American territory.

As the general in charge you'll have to deal with everything to gain tactical advantages and come out victorious -- take up strategic positions, capture states, assault and capture enemy forts, attack trains and protect your railroads! Capture the ports, so you can gain reinforcements coming from Europe. All the while, be sure to protect yourself from outside threats like storms, bands of Indians and even Mexican bandits!

To come out in one piece, you'll have to master a variety of gameplay elements -- from turn-based strategy, real time armed battles, one-against-many shootouts, to even horseback train chases! You'll have to use all your wits in order to emerge victorious from these eventful combats!