HomePC GamesAlex Hunter: Lord of the Mind -- Platinum Edition
Alex Hunter: Lord of the Mind -- Platinum Edition
Platform:

PC Games

File size:

1 GB

Category:

Adventure, Hidden Object, Casual Games
Club Masque

GOLD


member price:

$16.99


Regular price:

$19.99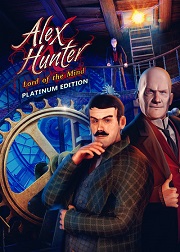 Description
Stop a madman from taking over a city using a mind control device!

Private investigator Alex Hunter thought the case of the missing professor would be an easy paycheck. But his investigation has proven to be anything but simple. What began as a routine open-and-shut affair quickly turned into a race to save a city from a madman who has invented a machine with which he can control the mind of every citizen. Set in a beautifully rendered and atmospheric game world, Alex Hunter challenges the player to guide the title character through a point-and-click mystery of surprising depth. As you locate hidden objects, solve puzzles, and open new locations, you'll untie the ingeniously knotted thread designed to keep you from accomplishing your goal: stopping the insanity before it spreads to every person within the lunatic's reach!

The Platinum Edition of Alex Hunter: Lord of the Mind includes a multitude of bonus materials. As you play, you'll unlock stunning desktop wallpapers, concept art, music, videos, and a gripping bonus case that takes Hunter into the hideout of an evil crime syndicate. With hours of captivating game time, a richly detailed world, and a storyline inspired by classic detective novels, Alex Hunter: Lord of the Mind will thrill casual game fans looking for their next great adventure!